Dinosaur Couple Ring (See Description)
Regular price
$30.00
/
---

DIRECTIONS TO ORDER A RING SET:
1) Select Ring Size and Color for THIN Band. Then add to cart.
2) Select Ring Size and Color for THICK Band. Then add to cart. 
Your rings will come in a set only after you add Thin Band AND Thick Band to your cart :)

Finish: 18k gold 
Material: Stainless Steel
*Tarnish Free*
*Nickel & Lead Free*
THE ORIGINAL TIKTOK VIRAL PUZZLE RING
Our custom Stay Golden puzzle ring are perfect for you and your partner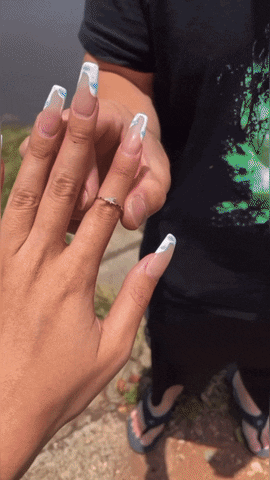 DO YOU AND YOUR PARTNER FIT EACH OTHER LIKE A PUZZLE? 
Match with stunning rings that fit together like your love for each other 
THE ULTIMATE LOVER COUPLE RING ♥
Show your affection for your significant other with the absolutely unique piece that completes you both
Does our jewelry tarnish?
Our 18k gold plated customs are tarnish-free and will maintain their vibrant look as long as they are properly taken care of. Our jewelry can be worn in the water and in the ocean. However, we recommend keeping your piece(s) away from water whenever possible to maintain that fresh shine. Remove your jewelry when showering, swimming, or before exercising. 

Does our jewelry turn green?
The short answer is no :) All of our products (unless stated other wise) are made out of Stainless Steel. We stay away from cheap metals that turn your skin green such as; Brass, Zinc, Nickel, Alloy and Copper. 
Are these made out of real/solid gold?
Any item that specifies that it is gold-plated in the description box is plated in 18k gold. Solid gold products would be far more expensive than the prices were are able to offer. We strive to balance affordability and quality! 
Is plated jewelry bad? 
Plated jewelry is only bad when you try to plate cheap metal such as; Brass, Zinc, Nickel, Alloy and Copper.

How do I clean my jewelry?
Wash with warm soapy water and a soft cloth! It's that simple :)

We only use the best materials for Stay Golden babes ♡